TOSHIBA TEC UNVEILS FOURTEEN LATEST NEW MODELS OF MULTI-FUNCTION PRINTERS WITH CLOUD-READY SOLUTIONS FOR THE DIGITAL WORKPLACE
Toshiba Tec today announced the launch of three new series in the multi-function printer's product line-up. Toshiba Tec has returned with the high-class design with a piano black base incorporating the all-new features to meet the fast-changing needs of today's work environment. The latest models, cloud-ready solutions, and new features implemented not only aim to increase the productivity and efficiency in the operation with enhanced security for the organizations but at the same time support the latest environmental regulations for the reduction of environmental burden and emphasize global environment friendliness.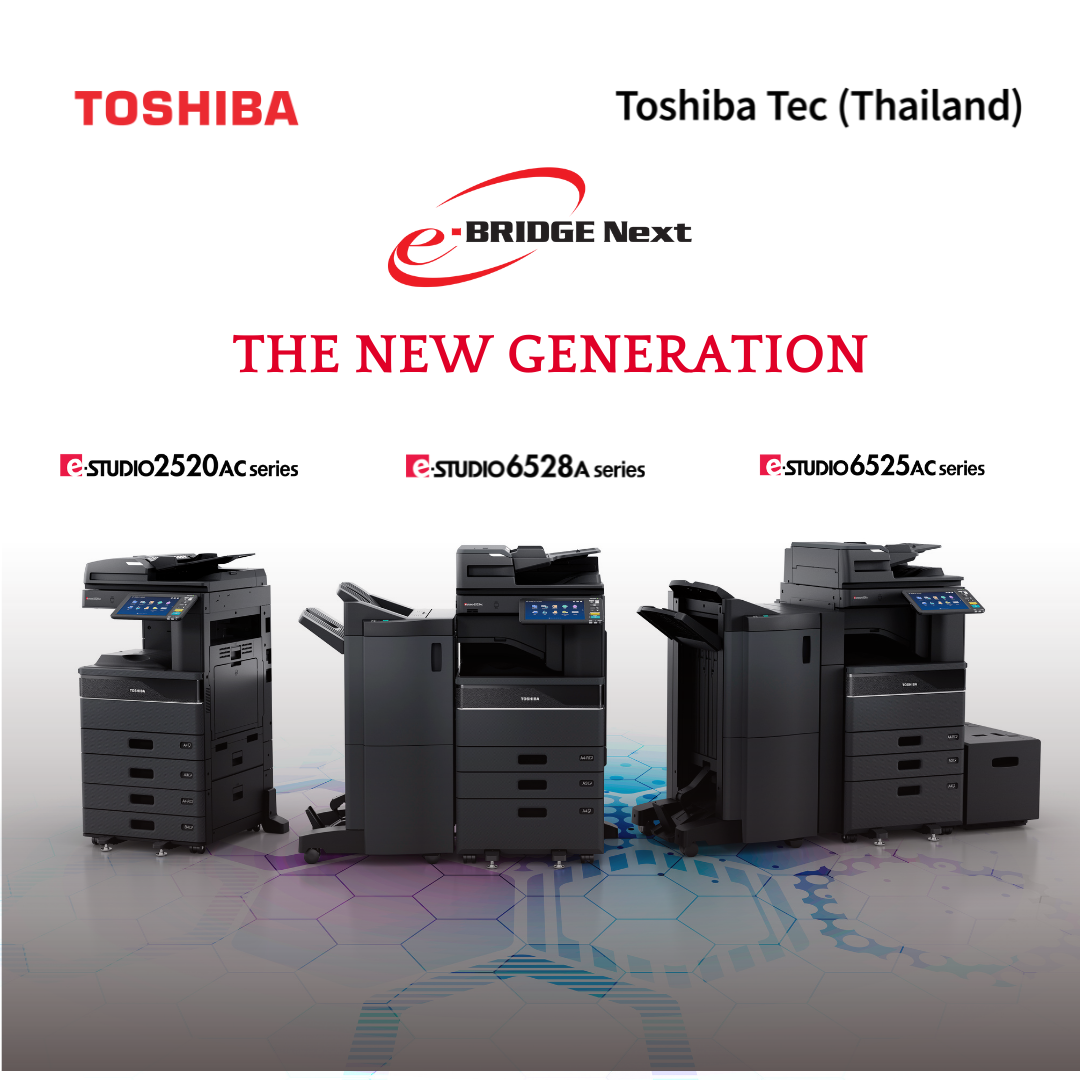 Toshiba's latest color product line up:
e-STUDIO2520AC series

e-STUDIO2020AC
e-STUDIO2520AC

e-STUDIO6525AC series

e-STUDIO2525AC
e-STUDIO3025AC
e-STUDIO3525AC
e-STUDIO4525AC
e-STUDIO5525AC
e-STUDIO6525AC
Toshiba's latest monochrome line up:
e-STUDIO6528A series

e-STUDIO2528A
e-STUDIO3028A
e-STUDIO3528A
e-STUDIO4528A
e-STUDIO5528A
e-STUDIO6528A
The design focus on how the multifunction printers can enhance and smoothen the operation in the hybrid working environment, in addition, to adding value to users.
All you need to know for the new series :
Smarter and Smoother Operation
Motion Sensor – reduce user waiting time from sleep mode
Dynamic Start – Improved wake-up time for efficient workflow
New user interface design with a user-friendly approach where it helps to smoothen all your workflows by customization the interface and personalizing your workflows
Cloud and Mobile Ready
Toshiba's cloud-ready products provide the solutions to your business needs to improve the workflow and print smarter. It utilizes the latest technological advancement and security standards to provide an end-to-end solution to navigate today's digital workplace seamlessly and securely.
Maximized productivity
The new series perform an outstanding print speed – up to 65 pages per minute with the latest laser technology
Intelligent Double Feed Detection – High-speed scanning for demanding environments. This feature prevents missing pages and damage to the document due to paper jams.
High-Quality Print Resolution – Professional output at 1,200 dpi
Thick Paper Support – Up to 300gsm
Increased Paper Capacity – Add a 5th paper source with 2,000 sheets
Remote Assistant with Real-time support
Work continuity thanks to proactive maintenance and monitoring
Protect your data with enhanced security features
The new series are integrated with robust modules to ensure high protection from securing your data, anti-malware functions, and credentials to unlock the SDD and HDD with a trusted platform module.
The new models increase efficiency and support across the various industries' needs in today's complex working environment. Available now! For more information, please visit https://www.toshibatec.co.th/.
Unless otherwise specified and/or credited, all images, artwork, text, graphics, logos, and logotypes are the copyright and/or trademark of the respective owners. All rights reserved